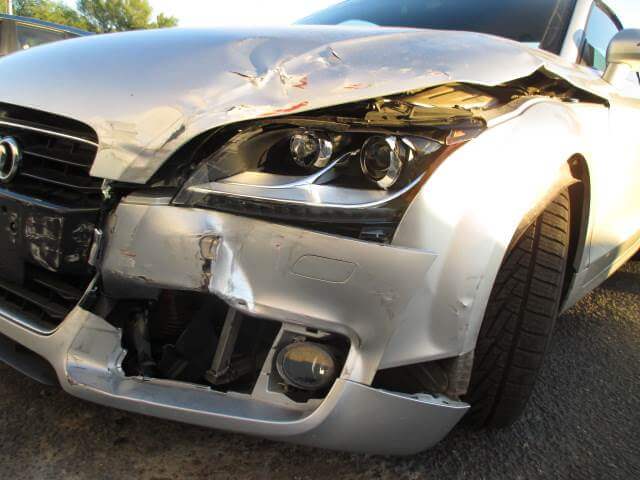 22 Feb

Should I Repair Or Replace My Bumper?
Should I Repair Or Replace My Bumper?
As counterintuitive as this might sound, bumpers are designed to be damaged. In a collision, the front or rear bumper absorbs the force of the impact in order to protect the more sensitive (and expensive) components of the vehicle. Because of the significant role the bumper plays in crash protection, it's crucial to get it repaired or replaced promptly when it sustains damage. A technician at the auto collision repair shop will be able to determine if your bumper can be repaired, or if a replacement is warranted.
Dents and Scratches on the Bumper
If your bumper has only been dented or scratched, it can most likely be repaired. The technician can easily repair scratches by sanding and painting over them. A dent can be repaired in a process called paintless dent removal. This may involve disassembling part of the car in order to access the dent from the inside. The technician will then use specialized tools to apply precise pressure to restore the integrity of the bumper.
Cracks on the Bumper
Bumpers can easily get cracked if you strike a utility pole or another vehicle. And in most cases, you'll want to replace, rather than repair a cracked bumper. Even if they are repaired, cracks will adversely affect the integrity of the bumper and its ability to absorb the force of an impact. It's safer to replace the bumper in this situation. The exception is if you own a classic car and cannot find an original bumper to replace it.
Damaged or Broken Bumper Hooks
Your bumper has hooks that help it stay on properly. If the hooks become damaged or broken in a collision, the bumper can fall off. For safety's sake, you'll need to replace a bumper that has damaged or broken hooks.
The repair and replacement of bumpers is just one of our specialties here at National Auto Collision Centers in Tucson. Our expert technicians guarantee your complete satisfaction with our auto collision repairs. Give us a call today at (520) 623-4959, and ask us about our free pickup and delivery services.